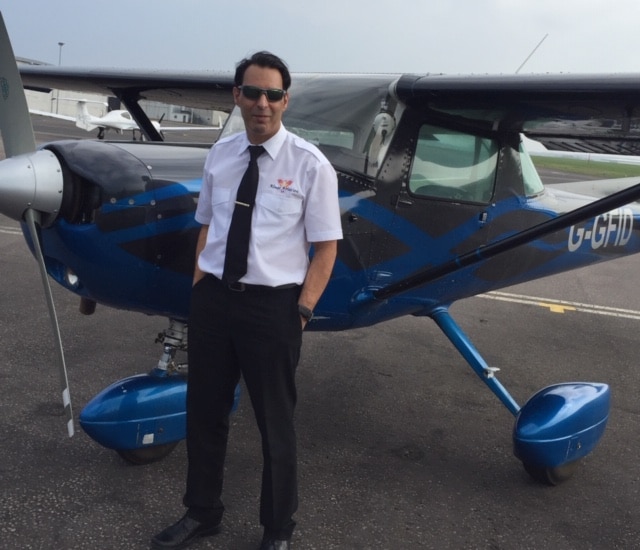 Ali has been a certified flight instructor for Almat Flying Academy for the past 4 years. providing instruction for the PPL (A) and LAPL (A).
When not flying the small aeroplanes at Almat Flying Academy Ali works for a leading EASA Approved Airbus Training organisation (ATO) based in Germany. Ali is an Airbus A320 Rated Pilot and also flies the Airbus A320 Full Motion Class D Simulator. This what Ali has to say about Almat Flying Academy "I have thoroughly enjoyed my experience with this flight academy and this is mainly due to the fantastic team I work with".
I booked a day in the life of a pilot, and I have walked away with so much knowledge!! My instructor Ali, (sorry if I spell your name wrong!) Was absolutely phenomenal. So positive, laid back and calm in his approach. Thank you for an amazing experience and I will be back to book again soon!
I did the "day in the life of a pilot". It was such an amazing experience. My pilot Ali was really friendly and welcoming and made me feel really comfortable. He showed me how we create a flight route and the file a flight plan. Each step of the whole experience I was involved making me really feel as though I was a pilot! Everyone at the academy was so friendly and helped to make the day feel really special. The academy building and fercilities were well maintained and clean along with the aircraft so you know you are in good and safe hands. Thank you so much to everyone at Almat and my pilot Ali for making the day so memorable for me! Hannah Rhodes
After beginning to get nervous on commercial planes I decided to have a flying lesson at Almat. My instructor Ali was brilliant at explaining the whole process, the pre-flight checks, what is going on in the air, and what pilots are looking out for, and of course how I was going to fly! He applied this information to commercial flying too and has very much set my mind at ease.The flight itself was incredible! I thoroughly enjoyed every second of it. We saw plenty of the local landmarks, and I had control for most of the flight. Ali has a great sense of humour too!This is absolutely something I will do again, and I urge everybody to give this a go!
Carmen and Ali were amazing - made me feel at ease and excited to fly! Couldn't recommend enough. Thank you guys... I'll be back! Daisy
amazing experience fantastic instructor Ali. need another lesson? 👍👍✈