With the Covid 19 Pandemic a lot of the big events have not been able to go ahead. Display teams have not been able to perform, and museums have been closed. Thankfully it is all changing, read on to find out more about how things are waking up in General Aviation.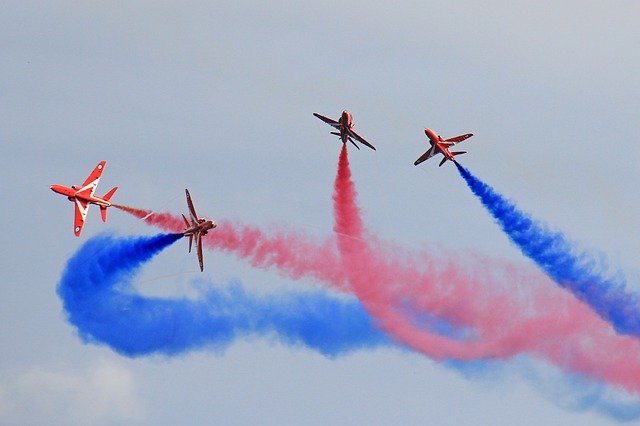 Return of the Red Arrows
On the 20th May the Red Arrows confirmed in a Tweet that "Public Display Authority has been granted for the Royal Air Force Aerobatic Team 2021". It has been 2 years since they performed in the UK, so look out for them at an air show near you. Including the Jersey International Air Display on the 9th September.
2021 Air Shows Going Ahead
A number of other airshows are also planned to go ahead this year. Including The Mildands Air Festival on 5th and 6th June, the Duxford Air Show Saturday 24th & Sunday 25th July, Bournemouth Air Festival 2nd-5th September, Chatsworth Country Fair 4th September, Abingdon Air & Country Show on 11th September and the RAF Cosford Air Show 11th and 12th September. All of these events feature the RAF Typhoon Display Team.
Top Youtubers Fly In To Halfpenny Green
Halfpenny Green is one of our flyout destinations for this year. And on 15th August Top UK Aviation Youtubers fly in to Halfpenny Green fly for an event to raise money for the Midlands Air Ambulance. Get a chance to meet Plane Old Ben, The Flying Reporter, Rory On Air, Jodel Flyer, Ben Atkinson (Learning to Fly), The MicroPilot & Let's Go Flying.
Air Museums Reopen
Newark Air Museum opened on the 2nd May. They are holding an Aeroboot / Aerojumble on the 3rd of July. As of the 17th May both the Cosford and London sites of the RAF museum reopen. Biggin Hill Memorial Museum will be putting on a @Fabulous Forties event on 5th-6th June along with a host of other events from this month. Solway Aviation Museum will be open from the 28th May.
Whats Happening at Almat?
We have been very busy since reopening as a lot of our members have not had much opportunity to keep their licences current during Covid shutdowns. If you need help getting your licence current so you can get flying again, we would be happy to help so please get in touch.